Surrounding Community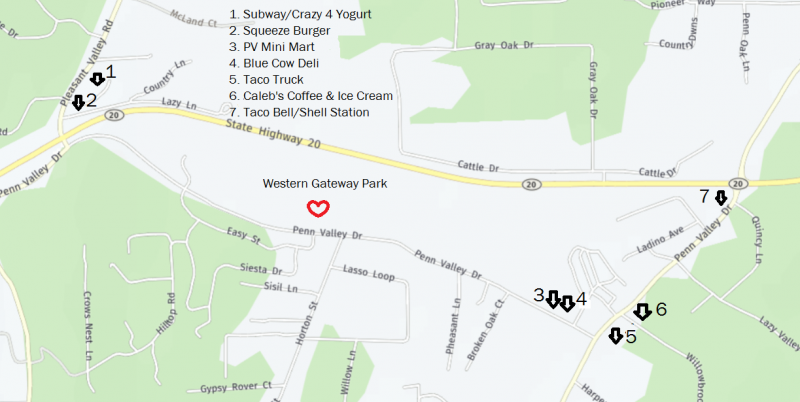 Western Gateway Park is located in the community of Penn Valley, California. There are many retail services within walking/biking/driving distance of the park. If you are looking for fuel, restaurant/fast food, groceries or hardware all can be found in our immediate surrounding area. We encourage you to explore all the opportunities our community offers while you are visiting the park. Additionally, we have emergency medical/rescue services and fire personnel just minutes away!

Please consult the map for local eating establishments.
Cafes, Restaurants, and Fast Food
Western Gateway Park is in the heart of the Penn Valley Community. Within walking/biking/driving distance of the park are several places where you can purchase breakfast, lunch, or dinner to bring back to the park and enjoy eating at one of our picnic areas. You'll find coffee and donuts, Mexican food, deli soups and sandwiches, hamburgers and fries, sub sandwiches, or frozen yogurt and ice cream.

We encourage you to explore the many options available in our community and make it a fun and gastronomic experience at Western Gateway Park!


Photos in order of appearance: Caleb's Creamery (coffee, donuts, and ice cream), Cesar's Taco Truck, Taco Bell/Shell Station/Mini Mart, Blue Cow Deli, Squeeze Burger, Subway.


Supermarket and Mini-Marts
If you're looking for a quick trip to the mini-mart or a full service supermarket, we have both within a short distance of Western Gateway Park!

The Penn Valley Market, Penn Valley Mini-Market and The Shell Mini-Market all have beverage and snack counters for that forgotten but necessary item. The Holiday Market has a wider selection of items including fully stocked produce, dairy, and meat cases. So whether it is a forgotten item or if you want to shop for all your barbecue needs, you can certainly find it in one of our community food outlets!

Photos from The Holiday Market, Penn Valley, California
Picnic Areas, Playgrounds, and Clean Restrooms
Located within Western Gateway Park are several picnic areas, playgrounds, and clean restrooms. We have both traditional and also handicapped accessible tilt up vault restrooms located throughout the park. We have both covered picnic areas and well as tree shaded picnic areas. These are available to be reserved for a fee, but are also available on a first come basis. Our play structures are located in two areas of the park and serve multiple ages.